Welcome to the New Mexico Uplift
Outdoor Recreation Stakeholder Portal!
Public Land Solutions has contracted with the State of New Mexico to conduct an outdoor recreation survey and stakeholder meetings in every Economic Development District. This information will be synthesized into a proposal to enhance and develop outdoor recreation assets across the state to help grow and diversify local economies.
We're excited you're interested! Please share your contact information below. Emails, phone numbers, and names will NOT be used for any other purpose other than to provide email announcements for upcoming stakeholder meetings and updates on the project in your area.
Please click HERE to add your name and stay informed.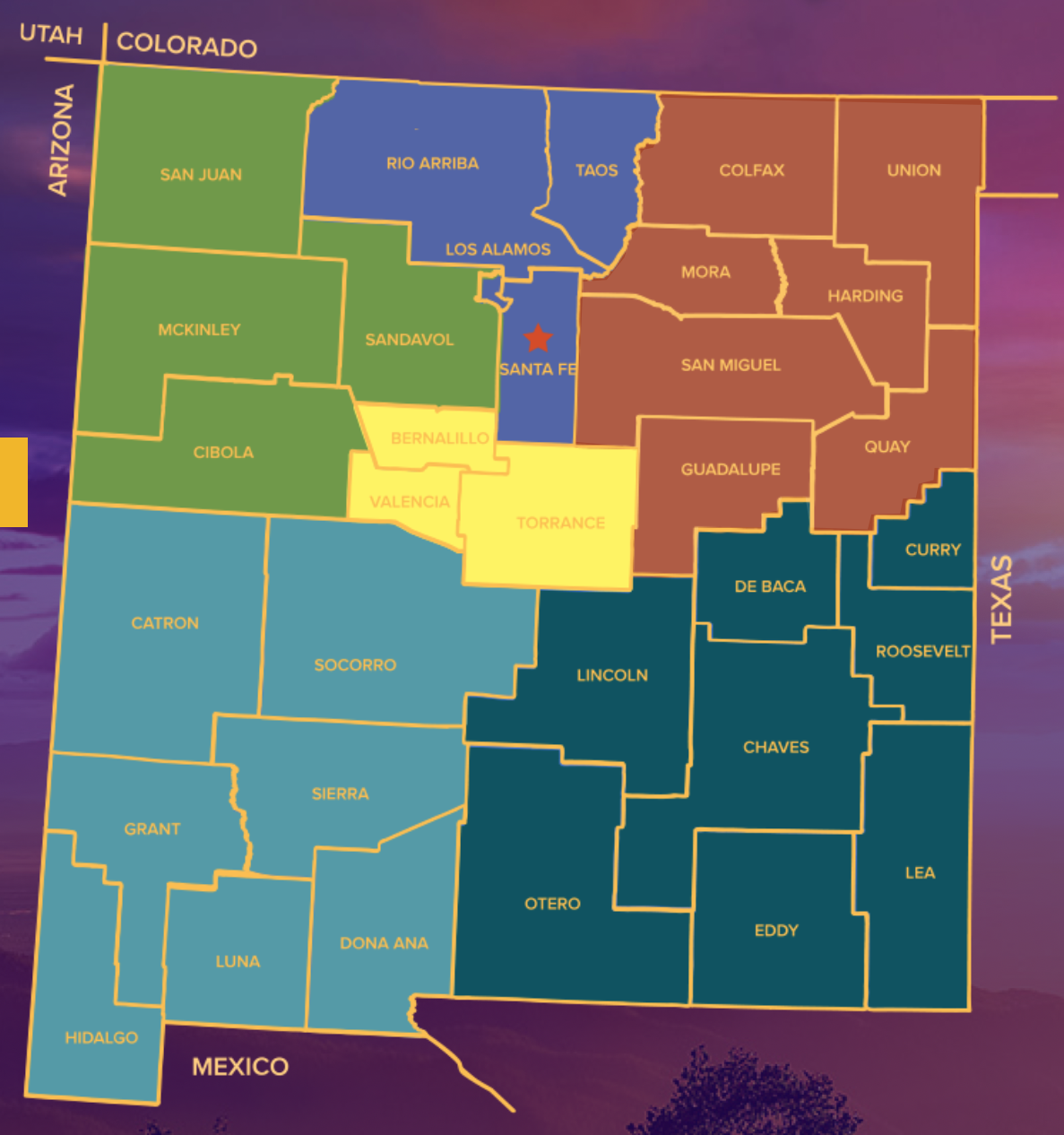 Outdoor Recreation Stakeholder Meetings
Over the course of the next few months, PLS will be hosting and facilitating stakeholder meetings in the Northwest, Southwest, and Albuquerque Economic Development Districts. Initial kickoff stakeholder meetings will be held via Zoom and in-person follow-up meetings are scheduled a few weeks later. Check back for meeting updates.
Initial Stakeholder Meetings 
Northwest Economic Development District
This includes the following counties: San Juan, McKinley, Cibola, and Sandoval
Initial Stakeholder Meetings for the Northwest EDD have been completed. Please join us for our in-person stakeholder meetings scheduled for May 31 – June 3.
Southwest Economic Development District
This includes the following counties: Catron, Soccoro, Sierra, Grant, Hidalgo, Luna, and Dona Ana
Virtual Stakeholder Meeting
Dona Ana County (Las Cruces)
Zoom Link
Date: May 12th, 2022
Time: 5:00pm
Virtual Stakeholder Meeting
Luna and Sierra Counties
Zoom Link
Date: May 16th, 2022
Time: 12:00pm
Virtual Stakeholder Meeting
Catron and Socorro Counties
Zoom Link
Date: May 26th, 2022
Time: 12:00pm
Central Economic Development District (Albuquerque)
This includes the following counties: Bernalillo, Torrance, Valencia
Virtual Stakeholder Meeting
Valencia and Torrance Counties
Zoom Link
Date: May 16th, 2022
Time: 5:00pm
Virtual Stakeholder Meeting
Bernalillo County
Zoom Link
Date: May 26th, 2022
Time: 5:00pm
Community Outreach Stakeholder Meetings
(In-Person)
Northwest Economic Development District
This includes the following counties: San Juan, McKinley, Cibola, and Sandavol
TBA
Southwest Economic Development District
This includes the following counties: Catron, Soccoro, Sierra, Grant, Hidalgo, Luna, and Dona Ana
Las Cruces, NM

May 18th at 8:00 am
The Courtyard Marriott at Las Cruces NMSU
Zoom Link (forthcoming)
Truth or Consequences, NM
May 18th at 12:00 pm
Ralph Edwards Civic Center, Red Room
Zoom Link (forthcoming)
Socorro, NM
May 19th at 5:30 pm
Bodega Burger Co & Lounge
Zoom Link (forthcoming)
Reserve, NM
May 19th at 12:00 pm
Community Center
Zoom Link (forthcoming)
Silver City, NM
May 19th at 5:30 pm
Buckhorn Saloon
Zoom Link (forthcoming)
Lordsburg, NM
May 20th at 8:00 am
Hampton Inn at Lordsburg, Hidalgo Room
Zoom Link (forthcoming)
Deming, NM
May 20th at 11:00 am
La Fonda Restaurant
Zoom Link (forthcoming)
Central Economic Development District (Albuquerque)
This includes the following counties: Bernalillo, Torrance, Valencia
TBA
Past Stakeholder Meetings
Northwest Economic Development District
This includes the following counties: San Juan, McKinley, Cibola, and Sandoval
San Juan and McKinley Counties
Zoom Link
Date: May 9th, 2022
Time: 12:00pm
Virtual Stakeholder Meeting
Sandoval and Cibola Counties
Zoom Link
Date: May 12th, 2022
Time: 12:00pm
Southwest Economic Development District
This includes the following counties: Catron, Soccoro, Sierra, Grant, Hidalgo, Luna, and Dona Ana
Virtual Stakeholder Meeting
Hidalgo and Grant Counties
Zoom Link
Date: May 9th, 2022
Time: 5:00pm
Central Economic Development District (Albuquerque)
This includes the following counties: Bernalillo, Torrance, Valencia