Utah BLM Announces Master Leasing Plan for San Rafael Desert
New plan encompasses 525,000 acres of public land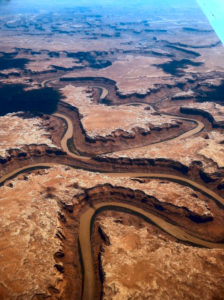 The Bureau of Land Management issued a notice of intent on Tuesday May 17,2016 to prepare a Master Leasing Plan (MLP) for over 500,000 acres of the San Rafael desert in Southern Utah. The plan aims to consider oil and gas leasing and post-leasing development, as well as areas to be protected.
The planning area, located in Emery and Wayne counties, will provide additional planning and analysis prior to any new oil and gas drilling. The MLP will allow the BLM to resolve long-standing lease protests as well as evaluate suspended leases. The process will also evaluate potential developments in the area and identify potential resource conflicts and environmental concerns. It will also allow the BLM to develop strategies for oil and gas mitigation and consider new conditions, such as no surface occupancy or prohibiting leases in certain areas. This landscape-level planning tool will help ensure balanced management between interests related to recreation, conservation, and industry in the San Rafael Desert. The MLP processes in places like Tres Rios, Moab and more are already showing how stakeholder collaboration can lead to positive land planning outcomes.
In addition to other issues that might be identified during scoping, through the San Rafael Desert MLP the BLM intends to:
Resolve long-standing protests on lease parcels that have been sold, but not issued in the planning area;
Determine whether to modify or lift lease suspensions that have been in place pending further analysis addressing lands with wilderness characteristics;
Evaluate potential oil and gas development scenarios;
Identify and address potential resource conflicts and environmental impacts from oil and gas development; and,
Identify potential conditions of approval and mitigation strategies for oil and gas development activities.
Public meetings will be held as follows to provide opportunities for anyone interested to get more information and leave comments:
Wednesday, June 15, from 6 to 8 p.m., at the John Wesley Powell River History Museum, 1765 East Main in Green River.
Thursday, June 16, from 6 to 8 p.m., at the Museum of the San Rafael, 70 N 100 E in Castle Dale.
For more information about the project and to submit comments online, please visit the project webpage at http://go.usa.gov/cJcPw. The BLM will also accept written comments by letter or email. Commenters should reference San Rafael Desert MLP.
Comments should be mailed to:
BLM Price Field Office
125 South 600 West
Price, UT 84501
Email comments should be directed to: