BLM defers leases threatening Zion National Park 
 Gov. Herbert, Zion communities urged deferral of leases
On June 1, the Utah state office of the Bureau of Land Management (BLM) released a decision to defer three controversial lease parcels in direct proximity to Zion National Park. Developing these parcels, totaling 4,730 acres, for oil and gas would have had direct impacts on recreation around the park and the surrounding communities.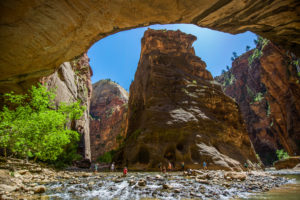 This decision to defer the leases resulted after opposition from Washington County Commissioners, the municipalities of Toquerville and Springdale, the National Park Service, a group of local businesses, and over 40,000 comments from the general public. Another issue with the proposed leases has been the proximity to the town of Virgin, which has plans to build up its recreation infrastructure right next to one of the proposed leases. The development of the leases would cause significant barriers to the growth of the town's recreation assets.
In a press release, the BLM's Utah State Director Edwin Roberson said, "…based on the environmental review and recognizing the rapid growth of recreational visits and tourism on adjacent public lands, the BLM believes that deferring these parcels for further review is the right decision."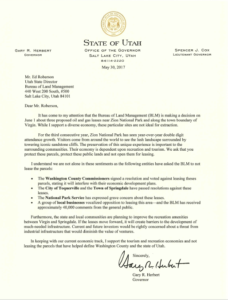 Utah Governor Gary Herbert also expressed concern about allowing leasing so close to Zion National Park, saying in a letter to the BLM that "the preservation of this unique experience is important to the surrounding communities. Their economy is dependent upon recreation and tourism… [therefore] I support tourism and recreation economies and not leasing the parcels that have helped define Washington County and the state of Utah."
More information can be found at https://www.blm.gov/press-release/blm-posts-proposed-parcel-list-september-oil-and-gas-lease-sale.